Vision and Mission Statement
Vision:
Ensuring that each learner assumes individual responsibility towards creating a brighter tomorrow
Mission:
To provide a progressive/broad education in a caring environment. We aim for excellence by developing, nurturing and guiding individuals to achieve their full potential:
Academically
Developing knowledgeable, skilled and responsible learners who think independently.
Socially
Instilling effective interaction within our school based on respect, acceptance and regard for  authority.
Physically
Encouraging a learner's positive physical well-being.
Morally
Nurturing learners to live by positive attitudes and values.
Spiritually
Founding all we do on Christian principles.
Culturally
Educating learners to appreciate not only their own culture but also the
culture of others.
Communally
Developing with each learner a spirit of community service.
Environmentally
Initiating and applying progressive change in our school that willin turn impact positively on our  community and our work
HOW DOES PEPPS POLOKWANE PREPAPRATORY SCHOOL AND COLLEGE SUPPORT

Integration

PEPPS is committed to the process of quality assurance. The following all form a part of our process to improve and enhance the quality of our provision:
Performance Agreements with all staff
Annual Performance Appraisal meetings with Head
Teacher appraisal – Lesson planning/Term planning/Year Planning/Class visits/Learner Book Checks/Assessment files/Subject Files
Assessment Appraisal – Moderation of setting of assessments/ moderation of the marking of assessments and analysis of the results
Mentoring of new teachers
Identification of focuses for staff development
Subject Meetings – to enhance and co-ordinate the teaching in subject fields
Academic Meetings – analysis of learner results fed back into teaching programme
Stakeholder Surveys – Parents/Learners/Staff/Management/Board of Governors
Annual SWOT Analysis
6 yearly IQAA Evaluation through ISASA
Focus Groups involving all stakeholders
Annual Planning Meetings at which all stakeholders in the school are represented
3 Year Strategic Planning
Full commitment to maintaining our Full UMALUSI accreditation process.
Relevance
PEPPS fosters the full development of each learner in order to achieve the school vision of "Ensuring that each learner assumes individual responsibility towards creating a brighter tomorrow." The following all form a part of this process:
Ethos – the commitment to the school ethos is supported by a firm but fair disciplinary system.
An overview of the Code of Conduct focuses on:

Care for others for
the school environment
Respect for others and their property
for school rules
Courtesy by acknowledging others
by speaking politely
by using good manners
Responsibility  by being well-presented
by being punctual
by doing your best
Mentoring of learners by senior learners and teachers
Learner Forums – PEPPS Parliament in the College and PEPPS Voice in the Preparatory School
Commitment to the maintenance of a diverse school community
Focus on community ourreach and social responsibility
Involvement in stakeholder surveys and focus group discussions
Academic Appeals Procedure – Learners have the right to query assessments,marking,etc. through the proper channels
Focus on environmental awareness and conservation
Centre for recycling
Blood doning centre
Leadership development through tours, training, education and opportunities to take on leadership roles
Focus on provideing 21st Century skills – technology, thinking skills and coping skills
Commitment to providing a diverse range of subjects and activities to develop each child s unique abilities
Focus on the development of general knowledge through quizzes and Olympiads
Ensuring that each child is known and acknowledged as an individual
Compulsory participation in one extra-curricular activity per term for grade 8 and 9 leaners
Credibility
The educational programmes, curriculum and qualifications offered by the school have national and international value and acceptance for the following reasons:
Adherence to the National Curriculum
Matrics write the Independent Examination Board Exams – an internationally recognized and bench marked exam
Grades 3, 6 and 9 write the Acer International Bench marking Tests through the IEB
Participation in the User Group conferences run by the IEB
Paricipation in the Subject Cluster Group Meetings organized through the IEB
Participation in National Olympiads and Eisteddfods
Participation in the Royal School of Music and Rock School exams
Membership of ISASA
Recognition as an International Eco School
Acknowledgement as being a "Distinguished feeder school that produces high quality students" by the University of Pretoria and University of Johannesburg
Our focus on developing 21st Century skills in each learner
IQAAEvaluation has been undertaken twice and we have twice received high recommendation
Full Accredication status with UMALUSI
Accessibility
PEPPS has opened access to the previously disadvantaged sections of the community in the following ways:
History of PEPPS : PEPPS was established in 1991 before all schools were multi-racial. The original vision was to establish multi-racial, affordable private schools that offered quality education. It is only over the last ten years that PEPPS has become multi-racial and we are committed to maintaining our present demographic which is 70% Black, 28% White and 2% Coloured and Indian. PEPPS is one of the most diverse independent schools in South Africa with a demographic profile that closely reflects South African Society
Affordability
PEPPS has a directive to remain affordable to middle-income families. Owing to the limited financial resources of the school we do not have a bursary plan but we are in the position to offer discounted fees to needy families
School Facilities
PEPPS offers the use of the school facilities eg. fields and classrooms to poorer schools and the extended community. PEPPS is also committed to partnering with less advantaged schools in sporting and cultural activities, providing the use of PEPPS facilities
Progression
Opportunities that the school creates for learners to be able to move up and across the different levels of the education and training system are as follows:
Opportunities for learners to repeat Grade R – 12 if they should fail
Opportunities for learners to repeat certain subjects at Grade 12 level in order to improve their results
Opportunities for Grade 12s to take on learnership positions in the school once they have matriculated
Guidance for learners
PEPPS learners are assisted to make decisions about entry into and progression through the education and training system in the following ways:
Career Guidance offered from Grade 4 – Grade 12
CFAM tests administered to Grade 9 and Grade 11 learners to offer guidance on subject and career choice
Our association with Dr Chris Nel who does psychometric testing at the school
Career Day for Grade 11 learners organized by the school
Subject Choice manual issued to Grade 9 learners
Subject Choice Evening and Special Parents' Consultation leading to Grade 9 subject choice
Provision of posters, materials, university brochures, application forms etc.
Trip to University of Pretoria Open Day where learners can speak to students and subject advisors
Community Outreach

CANSA Relay for life

Establishment of Libraries in Rural Schools

Mathematics Outreach Tutoring Programme

Recycling

Eco Fashion Show

Junior Rangers

Blood Doning

67 Minutes for Mandela

World Environment Day

Arbor Day

Application for ID documents

President's Award
AFFILIATIONS
[ezcol_1fifth]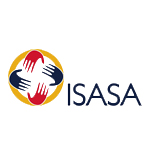 [/ezcol_1fifth] [ezcol_4fifth_end]
ISASA – Membership of the Independent Schools Association of South Africa offers support to schools within a community of colleagues. Membership entitles schools to tailor-made resources and access to legal and educational expertise. ISASA also promotes the interests of and protects the rights of Independent schools.
All member schools of ISASA are quality assured through the Independent Quality Assurance Agency every six years. The ISASA brand is a powerful aid in marketing schools because it is known as a hallmark of high educational standards and ethical practice
[/ezcol_4fifth_end]
[ezcol_1fifth]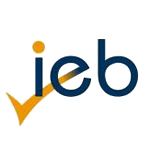 [/ezcol_1fifth] [ezcol_4fifth_end]
IEB –The Independent Examinations Board maintains standards; produces reliable results; ensures good co-relation between results and real ability as an indicator for future study; uses assessment to influence teaching and learning positively and creates opportunities for teachers to be involved in the assessment processes. The IEB is accredited by UMALUSI and is recognised at all South African and overseas universities. "The answer to the future is not simply to increase the amount of education, but to educate people differently – IEB assessment shows the way
[/ezcol_4fifth_end]
[ezcol_1fifth]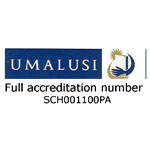 [/ezcol_1fifth] [ezcol_4fifth_end]UMALUSI Accreditation – Umalusi accredits private providers of education and training as well as private assessment bodies to offer tuition and/or assessment for qualification(s) on the General and Further Education and Training Qualification Framework. Accreditation is a status granted to a private provider at the end of a quality assurance process and attests to the quality of provision offered. PEPPS is one of 37 independent schools nationally that has been granted UMALUSI Accreditation[/ezcol_4fifth_end]
[ezcol_1fifth]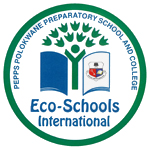 [/ezcol_1fifth] [ezcol_4fifth_end]ECO Schools International – The Eco-Schools Programme is an international programme of the Foundation of Environmental Education (FEE) and is active in 51 countries around the world. The programme is aimed at creating awareness and action around environmental sustainability in schools and their surrounding communities as well as supporting ESD (Education for Sustainable Development) in the national curriculum. Eco-Schools was initiated in South Africa in 2003, with WESSA as the implementing agent. There are over 1,200 registered schools with the programme. PEPPS proudly flies the International Eco-School flag, an honour afforded to the few schools that continuously excel in their contribution towards the community and the environment[/ezcol_4fifth_end]
.
[ezcol_1fifth]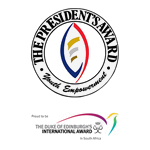 [/ezcol_1fifth] [ezcol_4fifth_end]
PRESIDENT'S Award – An exciting personal challenge for young people between 14 and 24. It started in the UK in 1956 and was first available in SA in 1983.
The Award Programme encourages:
– Personal discovery and growth
– Self-reliance
– Perseverance
– Responsibility
– Service to the community
There are Bronze, Silver and Gold levels, each consisting of 4 sections to be completed in a period of time:
– Service
– Adventurous Journey
– Physical Recreation
– Skills
[/ezcol_4fifth_end]
BOARD OF TRUSTEES
[ezcol_1quarter]Dr Lesibana Arthur Ledwaba[/ezcol_1quarter] [ezcol_3quarter_end]Chairperson and Executive Member[/ezcol_3quarter_end]
[ezcol_1quarter]Mrs Marjorie Nomasomali Nkomo[/ezcol_1quarter] [ezcol_3quarter_end]Member[/ezcol_3quarter_end]
[ezcol_1quarter]Mr Chwaro William Mabeleng Setiloane[/ezcol_1quarter] [ezcol_3quarter_end]Member[/ezcol_3quarter_end]
[ezcol_1quarter]Mr Makuku John Tladi[/ezcol_1quarter] [ezcol_3quarter_end]Central Directorate Representative and Executive Member[/ezcol_3quarter_end]
[ezcol_1quarter]Mr Masia Albert Lebepe[/ezcol_1quarter] [ezcol_3quarter_end]Member[/ezcol_3quarter_end]
[ezcol_1quarter]Mr Mosehle Patrick Maserumola[/ezcol_1quarter] [ezcol_3quarter_end]Member[/ezcol_3quarter_end]
[ezcol_1quarter]Mr Seapara Patrick Hamese[/ezcol_1quarter] [ezcol_3quarter_end]Executive Member[/ezcol_3quarter_end]
[ezcol_1quarter]Dr Chuma[/ezcol_1quarter] [ezcol_3quarter_end]Chairperson[/ezcol_3quarter_end]
[ezcol_1quarter]Mr Mofokeng[/ezcol_1quarter] [ezcol_3quarter_end]Vice Chairperson[/ezcol_3quarter_end]
[ezcol_1quarter]Ms Ngoasheng[/ezcol_1quarter] [ezcol_3quarter_end]Treasurer[/ezcol_3quarter_end]
[ezcol_1quarter]Ms Radzivhoni[/ezcol_1quarter] [ezcol_3quarter_end]Secretary[/ezcol_3quarter_end]
[ezcol_1quarter]Dr Ogwu[/ezcol_1quarter] [ezcol_3quarter_end]Vice Secretary[/ezcol_3quarter_end]
[ezcol_1quarter]Ms Khan[/ezcol_1quarter] [ezcol_3quarter_end]Additional Member[/ezcol_3quarter_end]
[ezcol_1quarter]Ms Mazingura[ezcol_1quarter] [ezcol_3quarter_end]Additional Member[/ezcol_3quarter_end]